Golf Resort Karlštejn
Camera image automatically refreshes every 30s. Click on the picture for full resolution view.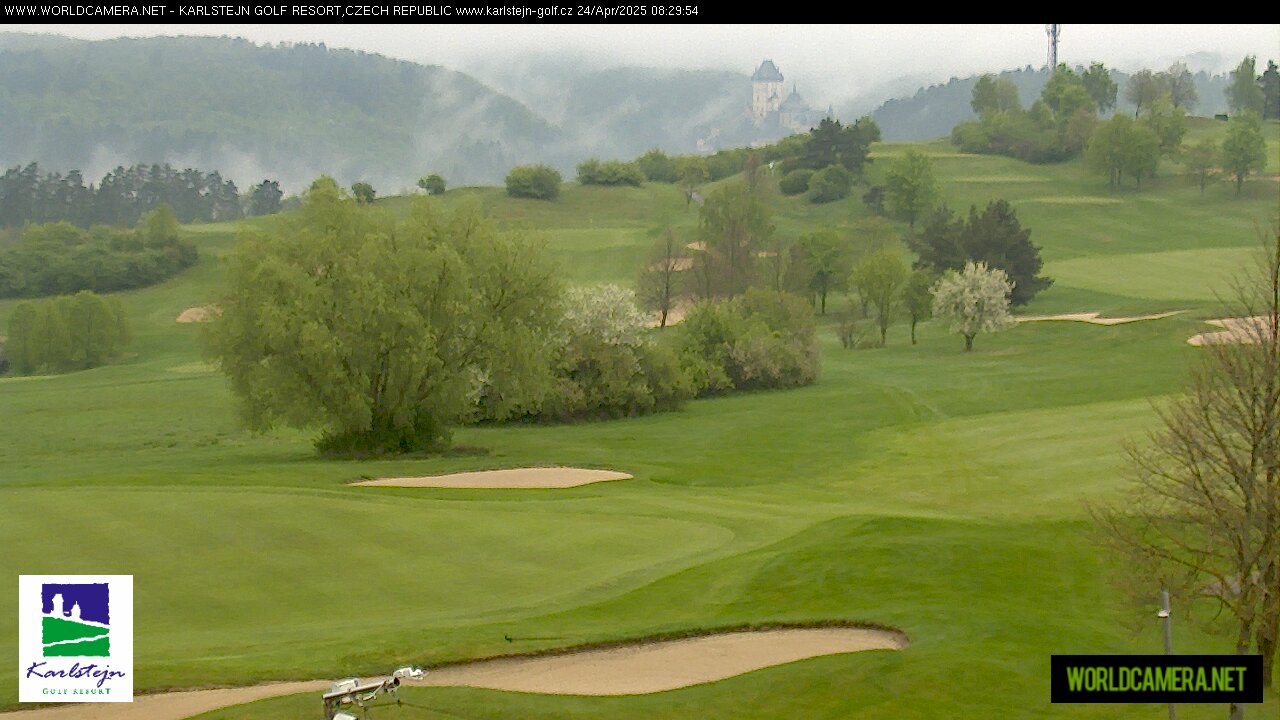 For teetime reservations and more information please contact reception: +420 311 604 999 or +420 602 248 424
Karlstejn Golf Course and Karlstejn Castle
Camera located at the Karlstejn Golf Course clubhouse is pointing on the northern part of the 27-holes course.
The Karlstejn Golf Course was opened in 1993 in the middle of scenic landscape near the famous Karlstejn Castle and close to Berounka river just 30 minutes to drive from Prague. There is superb view of the Castle from most parts of the golf course. Designed by Canadian golf architects Les Furber and Jim Eremko, designers of Spanish Valderama and Cuban Varadero. The course was hosting European PGA Tour event in 1997. The designers strategy was to enable playing golfers of different levels together. Narrow fairways, three ponds and numerous sand bunkers, it is a quite difficult and technical course where the planning of the shots and the strategy of the game is very important to achieve success.
The Karlstejn Castle (CZ: Hrad Karlštejn, DE: Burg Karlstein, PL: Zamek Karlsztejn, PT/ES: Castillo de Karlstejn, FR: Château de Karlstein, RU : Замок Карлштейн) was founded in 1348 and constructed under personal supervision of King Charles IV. The medieval gothic castle has gone through several reconstructions, late Gothic, Renaissance and Neo-gothic style. In its Big Tower with up to 7,5 m thick walls there is the Holy Cross Chapel with unique design, where behind 4 doors and 19 locks Czech Crown Jewels were kept. Today the castle is one of the most frequently visited castles in the Czech Republic.
Karlstejn Golf Course official webpage: http://www.karlstejn-golf.cz/
Karlstejn Castle official webpage: http://www.hradkarlstejn.cz/
Best Shots
Gallery